Welcome to Penticton Pet Resort Inc.
We offer a variety of dog care services including boarding, daycare, walks and grooming. You can get away and relax, knowing your dog is receiving the care, love, and attention they would receive in their own home.
Penticton Pet Resort is located in the Okanagan Valley in Penticton, BC surrounded by orchards and vineyards.
Penticton Pet Resort is a family run business that is dedicated to providing quality professional pet care for our guests.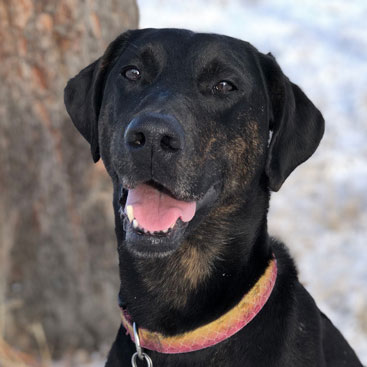 Our Pet Services
Our passionate and professional staff provides a safe, clean, comfortable environment for every guest staying at Penticton Pet Resort.
Our goal is to make your pet's stay as pleasant and relaxing as possible, while providing lots of daily exercise and fun activities.
Your flexibility is awesome. The way you know our dogs, despite their intermittent and infrequent visits and your skill handling them is SO appreciated. Your staff remember us and the dogs equally.
We love their skill level and how much heart they bring to the job. We know we can trust that our dogs are being cared for and that their need for exercise is met. We love your efficient systems and clean facilities. Our dogs love you because you bring them joy! :-).
Your business demonstrates equal amounts of professionalism & love.
We are huge fans!
– Catherine B
>> Read More Reviews
Our babes, Berners and Pyr have been under Lindsey and her wonderful staff's care for almost a decade. I sometimes think one of our furry babes loves Lindsey more than us, as we call her "doggie hikes" the "Party Bus" for our younger Berner, Mack! I would 150% recommend Lindsey and Penticton Pet Resort to our family, friends, neighbours or a stranger for that matter!
– - Nancy Folkestad
>> Read More Reviews
Penticton Pet Resort is an amazing local doggy daycare, dog accommodation, doggy gym and 2nd home for a furry friend!
Owner Lindsey is wonderful, even with my brat of a dog! She always responds right away when I ask how he`s doing and usually sends a photo! I would recommend this business to anyone who loves their pet & wants to socialize or board!
– - Nikki Morris
>> Read More Reviews
Awards and Certifications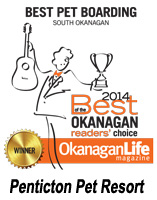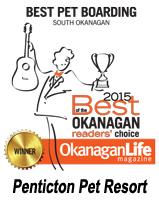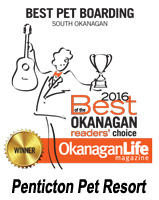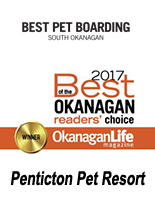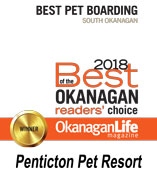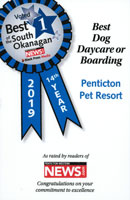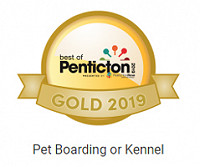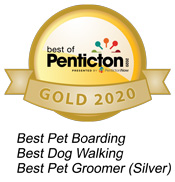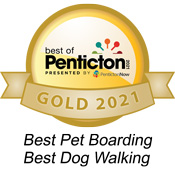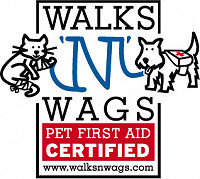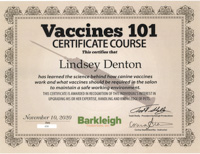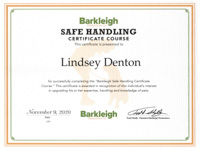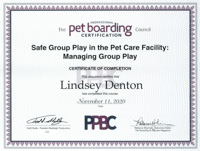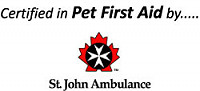 Connect with us on Social Media
If you have any questions, or require more information, don't hesitate to contact us.
Contact Us